Values, Vision & Mission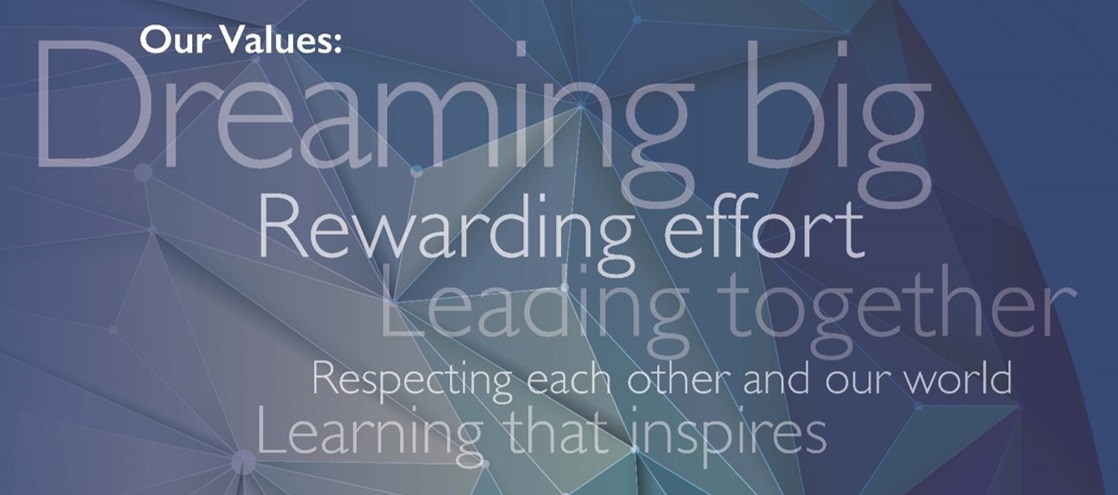 Our values are shared among all of the Trust's members. They were shaped by the student leaders from each of the schools and reflect the kind of ethos and culture they want to be a part of.
Our Mission
Working together we will develop inspirational schools which instil ambition and desire in young learners, open their minds, widen their horizons and equip them to succeed in a challenging world.
Our Vision
The vision for the Dudley Academies Trust is as follows:
Our family of schools will be the first choice for young people and parents in north and central Dudley. More young people than ever before will have enrolled into our schools. Parents will feel proud of their children as they progress and develop in our schools.
Our innovative teaching and learning will have ensured a marked improvement in learner attainment. A team of expert practitioners will work across our Trust schools, supporting all of our teachers. Teaching will be active, exciting and inspiring, focusing on the needs of individual learners. Our teachers will make best use of the latest available learning technologies. Our relentless focus on aspiration will ensure more of our learners achieve high grades and both learner attainment and achievement will be at or above national rates in all of our schools.
Our curriculum will be rich, broad and varied meeting the needs of learners of all abilities. Exciting new programmes, designed and developed in partnership with our sponsor Dudley College of Technology, will complement our existing offer. We will have developed alternative pathways to meet the needs of our most challenging learners. Our well developed and innovative links with employers will ensure our learners are well prepared to take the next steps into successful careers. From the many opportunities provided to them to experience and prepare for the world of work, they will become highly employable. Effective information, advice and guidance will ensure our learners are challenged to identify appropriate career pathways and set aspirational targets for themselves. Our learners will secure positive futures, with greater numbers progressing directly into apprenticeships, technical education programmes and A levels.
Partnership working will be evident across our family of schools, with our partner primary schools and with all key stakeholders in the region. Through highly focussed collaboration we will have created the conditions for rigorous school improvement. The aspirations of our local communities will have noticeably heightened. We will have developed enhanced support services for all our learners including services to support their mental health and wellbeing. Our learners will be strong and resilient and will flourish in a culture where they want to learn. Our estates development programme will be well underway towards our aim of developing new modern, inspirational facilities which support their learning.
Learners will report high levels of satisfaction in all of our schools. Our learners will comment that our provision is welcoming and inclusive. As socially aware young people they will understand how to best conduct themselves, professionally and socially, and to keep themselves safe. Our learners will enjoy school and will feel happy in a safe environment.
Our staff will also feel happy, positive and motivated and will enjoy working across the Trust. We will have further developed our middle and senior leadership capacity: challenging, accessible and inspirational leadership will be evident across our schools. Highly effective and inclusive communication will ensure that staff have a clear understanding of their role. All our staff will have the opportunity to develop their career to whatever level they aspire. Potential new employees will actively seek out opportunities to join our school teams.
Our stakeholders will recognise the Dudley Academies Trust as a valued partner which supports the economic, social and personal development of young people. Stakeholders will feel assured that our schools provide the highest quality learning opportunities.